Vanel Porter becomes first-generation graduate with generous scholarship
Wed, 09/21/2022 - 8:02am
Alumna Vanel Porter knows the dedication and perseverance it takes to earn a college degree, especially as a first-generation college student. 
Porter '22 recently graduated from the University of Louisiana at Lafayette with two degrees — one in chemistry and another in chemical engineering with a concentration in bioengineering. Her college career was filled with many highlights along the way. She dove headfirst into her studies and was a member of organizations such as the National Society of Black Engineers and the UL Lafayette Engineering Ambassador Program.
She also had to overcome several hurdles as she pursued her passion. Porter had to find a way to finance her education while still finding time to be a full-time student. Like many others, she worked several jobs to help pay for school. As her course load increased, Porter felt the pressure of trying to juggle all of her responsibilities at once. "It got to a point where I needed to pay for my education. However, the more I worked, the less I could focus on school," Porter said.
At the start of her final school year, Porter received an email from the department head of chemical engineering that he wanted to meet with her. Recently, she'd decided to explore a new bioengineering concentration that was being offered, so she thought maybe this meeting was to discuss her new endeavor. To her surprise, her entire life changed in that meeting. Porter discovered she would be the first recipient of the Dr. Ray and Jackie Boudreaux Scholarship in Bioengineering. This scholarship would remove her financial stress and allow her to focus all her energy on finishing her college education.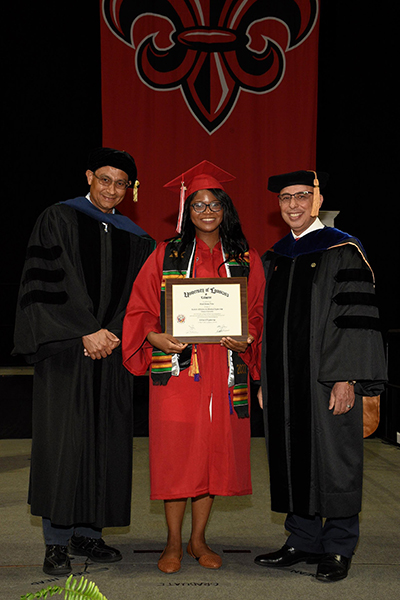 "I was really grateful. As a working undergraduate student, there are so many factors that can inhibit your success. You always have to keep a positive outlook, but those feelings will always be in the back of your mind. This scholarship truly impacted my life so much," Porter said. 
Dr. Ray Boudreaux '07 is a former faculty member of UL Lafayette's College of Engineering, and he's had an illustrious career as a biomedical engineer. Because of the scholarship he and his wife have started, future UL Lafayette students will be able to explore careers in this field. For Porter, this scholarship gave her the final push that she needed.
"The semester before I received the scholarship, I was in danger of dropping out because I didn't have enough funds to finish college. I would just like to thank [Dr. Ray and Jackie Boudreaux] for giving me a chance to finish my undergraduate degrees. This feels like a second chance in life."
Porter isn't done with her education just yet. She's currently pursuing her Ph.D. in systems engineering at the University and would like to continue in a career centered around research. Right now, she's focused on continuing her path to success at the University of Louisiana at Lafayette. No matter what obstacles are thrown her way, Porter knows she can tackle any challenge.
Photo Captions: Main: Vanel Porter began college as a first-generation student, became the first recipient of the Dr. Ray and Jackie Boudreaux Scholarship in Bioengineering, and graduated with two degrees in 2022. Other: Pictured left to right are Dr. Rafael Hernandez, department head of chemical engineering, Vanel Porter, and Dr. Ahmed Khattab, College of Engineering dean. (Photo Credit: Main: Sharron Maurice Harrison/S. Maurice Photography Other: Submitted)