The Robert and Betty Brownlee Veteran Scholarship in Mechanical Engineering
Fri, 09/27/2019 - 11:01am
In an effort to assist in the financial needs of UL Lafayette's enrolled veterans, a private donor has created a new scholarship that will be awarded to military veterans in the College of Engineering.
The first recipient of the Robert and Betty Brownlee Veteran Scholarship in Mechanical Engineering is Logan Chapman, a married 32-year-old Army veteran who is studying mechanical engineering with a materials engineering specialty minor.  When finding out he was the recipient of the award, he said he felt like a physical weight had been lifted off of his shoulders.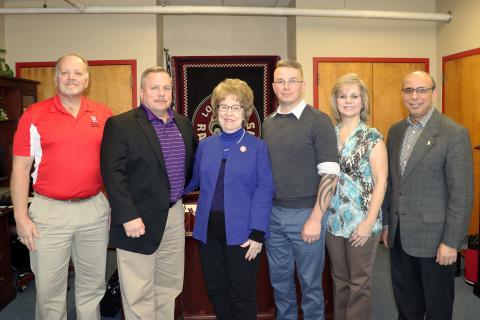 Pictured left to right: Department Head of Mechanical Engineering Alan Barhorst, Robert Brownlee, Jr., Betty Brownlee, Donna Brownlee Hunter, and Interim Dean of Engineering Ahmed Khattab, Ph.D.
"Financial stress will never make life easier," Chapman said, "so it was a big help to my family."
Chapman began attending UL Lafayette in fall 2016. According to him, the University welcomed him with opened arms despite the grades he received when he first attended college in 2005. He said he did not do well in that brief time, and he was afraid those grades would haunt him. However, he was able to file for academic amnesty, which gave him a fresh start.
Before deciding on his major, Chapman said he did quite a bit of research and even met with the dean of the college. What he found was a college that ensures its students have enough hands-on opportunities that prepare them for jobs when they graduate. Chapman gave examples such as the college's support of bringing back the Formula SAE team, a design team that develops a small Formula-style racecar; using computer-aided design ("CAD") software; use of hand tools; welding; and becoming amateur machinists. 
"It's continual affirmation that I made the right choice to come here," Chapman said.
Both Chapman and Robert Brownlee served in the U.S. military, however Robert served in the Marine Corps. Robert, who passed away in 2017, served in Korea before finding a new challenge: attending classes at UL Lafayette (then the University of Southwestern Louisiana) where he majored in mechanical engineering. Robert married his wife Betty in 1961, and by Robert's last year of college, they had two children. Now the Brownlees were living in a garage apartment and raising two young children while being a full-time student and barely making ends meet. Scholarships and financial aid were in short supply in the 1960s, especially to a student who was not a strong academic performer. Any financial assistance at that time of their lives would have been helpful to offset expenses and alleviate some of the uncertainties the Brownlees faced. In 1965, Robert was hired by E.I. du Pont de Nemours and Company, and he worked there until he retired in 1995.
The intention of the Robert and Betty Brownlee Veteran Scholarship in Mechanical Engineering is to help the recipient as he or she follows a similar path as the Brownlees did.
When looking back on her and Robert's life together, Betty said understands the needs of college students like Chapman and this is what inspired her to create the scholarship.
"When you start off, you don't have that much money when you can use it. Then when you have the money, there's nothing you really want to buy, so you give it away," Betty said. "It's the gift that keeps on giving, and education is very important."