Meet Student Philanthropy Ambassador Sage Aucoin '21
Thu, 08/13/2020 - 2:10pm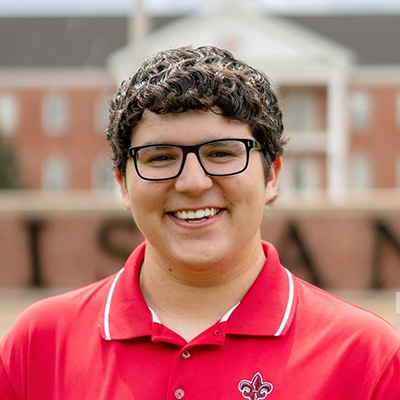 Sage Aucoin is a senior majoring in Strategic Communication with a concentration in Public Relations. His interest in Public Relations came into the picture after he joined several organizations that let him run their social media platforms. He enjoys "being the bridge between organizations and their publics."
Although Public Relations and managing different social media outlets is a passion of his, he also enjoys working with incoming students. Sage has been a prominent member of the Office of Orientation for 3 years now, and his roles include being a regular Orientation Leader in 2018, a Parent Orientation Leader in 2019, and a member of the 2020 Leadership Team.
Sage aspires to work for a corporation's PR management team, or even become a PR manager one day. In his free time, Sage likes to read, make graphics, and spend time with his friends.
What do you enjoy about being a student caller?
I enjoy how easy it is to connect with Alumni and be the helping hand that reconnects them with our university. I love hearing stories about their time here at UL Lafayette, especially stories that I've only seen through photographs in old yearbooks. The passion that these alumni still have for the University makes me excited for my own graduation.
What has surprised you as a student ambassador?
I was surprised with how long it's been since some of our alumni have visited the campus. Their careers took them to many places far away from here, and that makes me extremely proud of my decision to get my education from here! This university has done wonders for our alumni, and I'm excited for my journey after my time at UL Lafayette is finished.
Why is alumni support important for the advancement of the University?
Alumni support is super important for our students. When alumni give back, it shines a light to show students that our alumni care deeply about our university and their education specifically. It inspires our students so that whenever they become successful with their own careers, they will also give back. Many scholarships, awards, jobs, and events wouldn't be possible without our alumni!
Why should alumni and friends answer their phones when they receive a call or text from UL Lafayette?
We want to be that bridge that connects them back to UL and to show them how important alumni support is. Also, many alumni don't know where to find updates on our university, so by us reaching out, they have a first-hand look inside how our university is doing!
How have your conversations with alumni and friends changed your outlook on your own college experience?
What I've learned the most from my conversations with alumni is that bad grades do not define you as a student. As long as you work hard and push yourself to get out of your comfort zone, you can bounce back from anything!